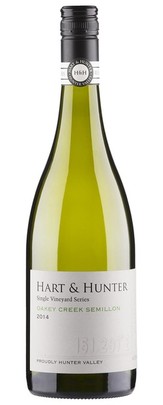 Hart & Hunter 2014 Oakey Creek Semillon
2014 has been a year to remember for both whites and reds. A perfect lead-up to vintage with good winter rains, cool night time temperatures, and for the first time in a few years no pressure from the rain gods in January, as is usually par for the course in the Hunter. Wine makers in the region had the luxury of watching their fruit ripen taking their time to pick it at optimal ripeness, as opposed to being dictated to by mother-nature.
The fourth year in taking fruit from this iconic vineyard has produced a sumptuous yet elegant wine. Tiny old vines producing a small but flavoursome crop. This vintage was harvested by hand ten days earlier than last year, on the 21st January, on what was a quiet, overcast morning. The fruit was de-stemmed and crushed, pressed and left to settle. Fermentation is slow and held at approx. 12-15Cº. The wine is then racked off gross lees, fined, stabilised and filtered ready for an early bottling to capture and retain maximum freshness. Bottled on 23rd June.
A softer, somewhat more approachable Semillon has resulted from 2014, with the refreshing acidity, so defined from the Oakey Creek Vineyard. The nose reflects absolute Semillon characters. Lemongrass and lime rind dominate. While the palate is long and elegant, showing delightful crispy acidity and a chalky wet stone character that is so loved from this vineyard.
Cellaring: Drink now, but will reward careful cellaring for 7+ years
Food match: Try a deliciously spicy larb salad, or simple fresh sashimi