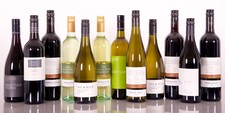 Autumn Icon Mixed Dozen
If only a dozen meant 24 bottles we could have put in all of the wines we love! But here are 12 of our favourites and what a great mix of awesome winemakers and varieties we have for you. Plus we have included some not yet released wines to give you a little sneak preview.
And the best bit is you save more than 20% (RRP $432, members save $92).
One bottle each of:
2018 Silkman Reserve Semillon
2020 David Hook Pinot Grigio
2019 Hart & Hunter Dr B's Fiano
2019 Thomas Two of a Kind Semillon Sauvignon Blanc
2019 Little Wine Co Vermentino
2019 Hart & Hunter 26 Rows Chardonnay
2017 Little Gem Shiraz
2017 Thomas Elenay Shiraz
2018 Little Wine Co Barbera
2018 Silkman Reserve Shiraz Pinot Noir
2018 Thomas Sweetwater Shiraz
2017 David Hook Reserve Nebbiolo