Grange vs the Hunter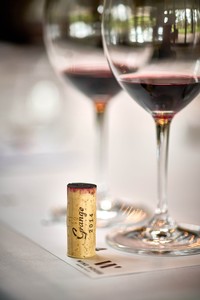 Each year throughout June, we pitch Australia's most iconic wine, Penfolds Grange against three of our Hunter Valley icons. This year sees the amazing '100 point' 2015 Grange up against our local heroes.
2015 was an incredible vintage for Grange, and this year we have decided to pitch it against an equally stellar vintage here in the Hunter, 2017. This year we will be tasting 2015 Penfolds Grange, 2017 De Iuliis Limited Release Shiraz, 2017 Mount Pleasant Maurice O'Shea Shiraz and 2017 Tyrrells Vat 9 Shiraz.
We present the four wines to you in Riedel glassware as a 'blind' bracket (4 x 30mL pour). Name the wines correctly and you will enter the draw to win an Icon pack valued at over $500!
There are three ways you can take part in this month long festival of Shiraz:
~ Saturday Masterclasses ~
Taste through this amazing bracket of wines with one of our leading winemakers, for no extra charge.
$98pp 11:30am to 12:30pm
Saturday 4th June with Michael De Iuliis (De Iuliis Wines) BOOK HERE
Saturday 11th June with Chris Tyrrell (Tyrrell's Wines) BOOK HERE
Saturday 25th June with Adrian Sparks (Mount Pleasant Wines) BOOK HERE
---
~ The Grand Grange Masterclass ~
This is the highlight of the Grange vs the Hunter month.
Be treated to a Masterclass led by Iain Riggs AM followed by a superb lunch by chef Andy Wright
Saturday 18th June 12:00pm
$210pp | Members + 1 guest $195pp
BOOK HERE
---
~ Grange vs the Hunter at your leisure ~
Visit any day throughout June and be a wine judge for the day!

The wines will be presented to you in Riedel glassware (30mL pour each)
Just like a wine judge you won't know the order of the wines until all is revealed on the 30th June.
Correctly identify all four wines and you will go in the draw to wine an Icon pack valued at over $500!
Allow 1 hour
$98 pp BOOK HERE
---
Cancellation policy: In the event of COVID restrictions we will provide a full refund. Guest may cancel their reservation up to 48 hours prior to booking time will be fully refunded less a 2.5% booking fee.
(See separate cancellation policy for Grand Grange Masterclass June 18)