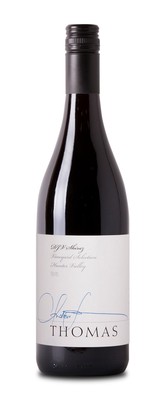 Thomas Wines 2014 DJV Shiraz
Inspired by previous winemaking legends such as Maurice O'Shea and Murray Tyrrell, this is a modern spin on traditional Hunter Valley Shiraz. The name "DJV" refers to the feeling of déja vu that you may well experience when tasting this wine. Made using a variety of traditional techniques, this Shiraz is intentionally a lighter, "Hunter River Burgundy" style.
DJV (or déjà vu) is a wine made using some old Hunter Valley techniques of adding a small percentage of white juice to the red ferment to give a natural acid addition.
Sourced from the alluvial flats of Hermitage Rd, the Trevena vineyard (planted 1966) produces the 'lightness' we are looking for in this style. The acidity profile was balanced by co-fermenting the Shiraz with a small portion (4%) of green Semillon 'verjus'. teh 2014 Hunter Valley vintage produced more a 'robust' style of Shiraz and the wine was followed by 10 months maturation exclusively in older (5-6 years old) barriques prior to bottling in January