Wine Experiences
Our Wine Experiences offer a unique opportunity to sample wines from the best winemakers in the Hunter Valley and further afield. We offer five different Wine Experiences, each is a bracket of four superb wines served in Riedel glassware with each wine thoughtfully paired by our chef from the Wine House Kitchen.
On arrival you will be seated in our Wine Lounge with a complimentary glass of sparkling. Our wine experts will introduce the wines and food pairings and will be on hand to answer all of your wine questions!
Elect to taste the wines 'blind' or with tasting notes supplied while you taste, your choice!
Browse the different options below or Book here (Select 'Tasting Experience', your preferred date and time and you will then be prompted to select individual Experiences). We are able to cater for most dietary requirements.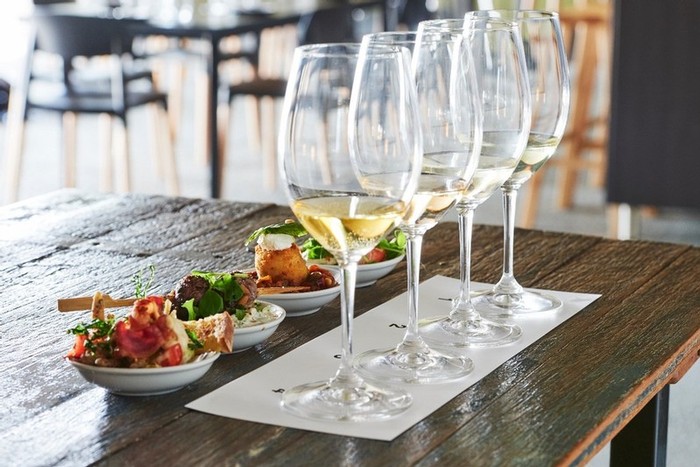 Classic Hunter Valley Semillon $55 pp
Semillon has been described as the Hunter Valley's wine gift to the world; it is completely unique style that cannot be replicated anywhere in the world. Zesty and fresh as a young wine, beautifully rich and honeyed as an aged wine. We have selected only winemakers who specialize in Semillon to bring you this stunning bracket showcasing this amazing variety. Book here
Classic Hunter Valley Shiraz $62 pp
Hunter Valley is the birth place of Shiraz in Australia, the style produced here is uniquely elegant with a structure that ensures they age beautifully. We have curated this flight to include four vintages and four winemakers to show you the beauty of Hunter Valley Shiraz. Each wine is thoughtfully paired from our menu to complement the unique flavours.
Here at the Wine House we have some of the best Shiraz winemakers in the Valley, so we are perfectly placed to show you Hunter Shiraz at its finest. Book here
Divine Chardonnay $60 pp
Chardonnay is known as the 'Queen of White Wine'. Chardonnay We have selected a beautifully diverse flight of four wines from the Hunter Valley and further afield. The flight has been thoughtfully paired by our chef Ros to make this an unforgettable tasting experience.
As we offer this as a blind tasting we can't tell you what the wines are but we can tell you that this is indeed a divine line-up. One of our Wine House winemakers, Liz Silkman is one of the finest Chardonnay winemakers in Australia, so that gives you a clue to at least one of the wines! Book here
Cutting Edge Whites $52 pp
This flight of four wines offers you the opportunity to explore the new world of alternative white varieties. We have curated this offering to show how Hunter Valley winemakers are working with new varieties, we have also included an international wine which provides an excellent comparison to our 'new world' styles.
With our alternative variety specialists in the House, we have been able to design an informative and entertaining journey through these exciting new varieties. Book here
Cutting Edge Reds $55 pp
Shiraz will always be the Hunter Valley hero but there is no denying the groundswell of interest and excitement around alternative reds. Varieties such as Tempranillo, Barbera, Sangiovese and Touriga are becoming increasingly mainstream. With so many beautiful wines to choose from we found it difficult selecting only four. Book here