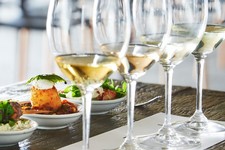 Semillon Wine Experience
Classic Hunter Semillon
Semillon has been described as the Hunter Valley's wine gift to the world; it is a completely unique wine style that cannot be replicated anywhere in the world. Zesty and fresh as a young wine, beautifully rich and toasty as an aged wine. We have selected only winemakers who specialize in Semillon to bring you a stunning bracket of which will showcase this amazing variety.
As we offer this as a blind tasting we can't tell you what the wines are but we can tell you though that the wines range from 2009 to 2018 and between them they have amassed 4 trophies and over 15 gold medals, one of these wines was also awarded James Halliday 'Semillon of the Year'.
Click here to book your Classic Hunter Semillon Wine Experience.