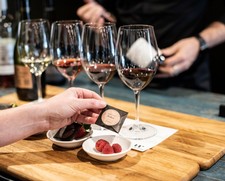 Connoisseurs Wine & Chocolate Tasting
Are you ready for a sensory experience like no other...? Be seated in our wine lounge and you will be presented with four wines from our premium tier perfectly paired by our winemakers with the amazing Cuvée chocolate from Maître Patissier & Chocolatier, Deniz Karaca.
Allow 45 minutes
Includes: Seated tasting in our wine lounge with four premium wines matched with chocolate from the exclusive Cuvée range.