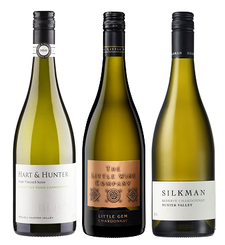 Hunter Chardonnay 6 Pack
$195/six pack (you save $41), two bottles each of:
Hart & Hunter 2018 Twenty Six Rows Chardonnay - this vintage is a slight change in style from the 2017 and we love it! It has a beautiful core of melon fruit, it's lighter on the oak front and has a really lovely palate weight. The team is taking this one home to drink at the moment.
2017 Little Gem Chardonnay - Suzanne Little was previously winemaker for Rosemount Estate where she was responsible for their range of premium Chardonnay. Her aim with the Little Gem is to make an approachable Chardonnay that is balanced and delicious. Quite gluggable this one.
Silkman 2017 Reserve Chardonnay - Liz Silkman is quite simply queen of Chardonnay in the Hunter Valley; her Chardonnays are consistently beautiful and the 2017 Reserve is a stunner - if you want to put one of these Chardonnays into the cellar this would be the one.