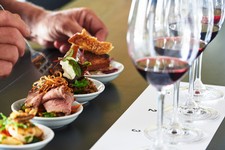 Shiraz Wine Experience
Classic Hunter Shiraz
Hunter Valley is the birth place of Shiraz in Australia, the style produced here is uniquely elegant with a structure that ensures they age beautifully. We have curated this flight to include four vintages and four winemakers to show you the beauty of Hunter Valley Shiraz. Each wine is thoughtfully paired from our menu to complement the unique flavours.
Here at the Wine House we have some of the best Shiraz winemakers, so we are perfectly placed to show you Hunter Valley Shiraz at its finest.
Click here to book your Classic Hunter Shiraz Wine Experience.