Thomas Wines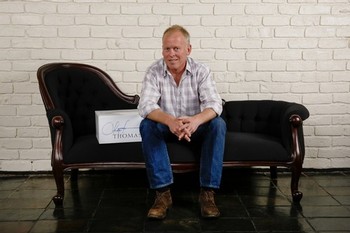 Founded by Andrew Thomas (aka Thommo), Thomas Wines is committed to sourcing superior-quality wines from vineyards throughout the Hunter Valley region. Originally from McLaren Vale in South Australia, Thommo has lived in the Hunter Valley for over thirty years. He started his winemaking career at Tyrrell's, where he gained a great respect for and understanding of the two signature varieties of the Hunter Valley: Semillon and Shiraz. In 1997, Thommo struck out on his own with a view to making single vineyard Semillon and Shiraz to rival the Hunter greats.
The Thomas Wines range is sourced from carefully chosen vineyards throughout the Hunter Valley. Thommo's belief in these vineyard sites is reflected in his designation of single vineyard wines.
His flagship wines, Kiss Shiraz and Braemore Semillon, sit at the top of an impressive list of wines and have become something of a benchmark for the Hunter Valley. Andrew Thomas's many accolades include Hunter Valley Winemaker of the Year, finalist for Gourmet Traveller Wine Magazine's Winemaker of the Year Award, and Best Exhibitor at Winewise Magazine Award & Best Small Exhibitor at the Royal Sydney Wine Show.
It is Thomas Wines's continued attention to detail, Andrew Thomas's dedication to making exceptional Hunter Semillon and Shiraz, and his hands-on approach to every aspect of his winemaking that have earned him his nomination, enviable show success and reputation as one of the Hunter Valley's leading winemakers. We are proud to carry Thomas Wines at Wine House Hunter Valley and invite you to explore our collection online to buy wine from Thomas Wines from our range of premium Australian winemaking brands.
"… an emerging superstar of the Hunter, producing peerless Semillon and classy Shiraz." Peter Forrestal, Qantas
"… one of the Hunter Valley's finest winemakers." Huon Hooke, Sydney Morning Herald, Good Living