Hart & Hunter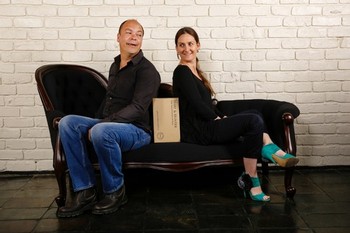 Winemaking couple Damien Stevens and Jodie Belleville are the hands behind Hart & Hunter. Their passion to find a great patch of dirt producing classic Hunter Semillon and Shiraz created the trophy-winning first release of their wine.
Determined to start out on the right foot after Mother Nature foiled their plans in 2008 with the wettest vintage of the decade, and waiting for the right vineyard sites to show themselves, the partners secured their first Shiraz in 2009, followed by Semillon in 2010. The wait was worth it, with the first release of the Oakey Creek Semillon taking two trophies in the 2010 Hunter Valley Wine Show before it was even released.
Currently, Damien looks after their winemaking at Hart & Hunter whilst Jodie gets involved at the tasting bench, and she handles the back of house and sales for the business.
As a cellar door carrying the highest-quality wines in the Hunter Valley region of Australia, we are proud to include Hart & Hunter wines in our collection at Wine House Hunter Valley. We invite you to explore our range and buy wine online to sample the many different high-quality brands we carry for yourself.
"Winemaking couple Damien Stevens and Jodie Belleville are the astute minds and dextrous hands behind the brand new Hart & Hunter label and this new release, single vineyard Semillon is an absolute result. With 30 year old vines and perfect vintage conditions, this beautifully balanced, 11.5% alc wine is set to be a star performer in the UK market. If you have never taken a dip in the thrilling Semillon plunge pool then start here". Matthew Jukes, Decanter Magazine
"I'd never heard of Phat until they won best 2010 Semillon at the Hunter Show - with their first release! It exhibits chalky mineralty. Pure and focused with delightful floral perfume. Great longevity. Tiny volume - be quick!" Tyson Stelzer